The Importance of Health and Wellbeing
Looking after your health and wellbeing can help your fitness, energy levels and increase your mobility. It can also improve your mood and concentration and provide a sense of achievement and independence. For these reasons, it's a great goal to include in your NDIS plan.
The Improved Health and Wellbeing NDIS budget category sits within your Capacity Building budget, and is specifically designed to help you achieve your health and fitness needs and goals.
Activities included in the NDIS Improved Health and Wellbeing category
Activities covered in this category include things like:
Assistance attending exercise classes, sporting groups and personal training
Creating a tailored exercise plan that is suitable for your abilities to help develop fitness and mobility
Grocery shopping and meal preparation, including planning and cooking meals suitable to your goals and circumstances
Nutrition and healthy eating courses
Working on your health goals
How Funding Can Be Spent
Improved Health and Wellbeing budget expenditure must be 'reasonable and necessary' and is only available for supports within this category. However, there is lots of flexibility within the category so you can choose to spend your funding in a variety of ways to improve your physical and mental wellbeing.
Whether you would like to see a nutritionist and take cooking classes, develop an exercise program with an exercise physiologist, or access support for grocery shopping and meal preparation, you can access this funding to achieve your specific health and wellbeing goals.
How swara can help
swara runs a range of NDIS funded Day Programs, included programs supporting the Improved Health and Wellbeing budget category. Our support workers help participants and their carers to identify goals, develop pathways and achieve aspirations. We ensure that swara participants not only have access to services at our centre, but also to services in the broader community.
swara Health and Nutrition Program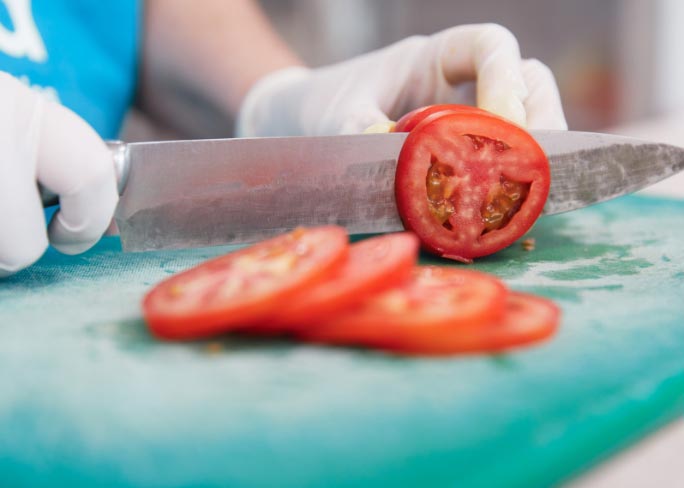 The swara health and nutrition is designed to assist people to increase physical activity and encourage healthier eating. The program aims to improve both physical and mental health as well as the quality of life and self-esteem in a welcoming environment. Our aim is to help participants to develop the correct tools to live a better-quality life, such as equipping participants with knowledge on healthy food choices, and why physical activity is so important. We also tailor the program for specific needs. For instance, participants with diabetes are taught how to monitor sugar levels.
Assistance with your NDIS plan
If you'd like to understand more about the Improved Health and Wellbeing category or any other aspects of your NDIS budget, speak to one of our swara Support Coordinators. We can help you get the most from your NDIS plan. 
If Improved Health and Wellbeing support is included in your NDIS plan and you'd like to learn more or sign up to a swara Day Program, contact our friendly team today.