Health and Nutrition Program
Our Health and Nutrition Program has been designed to increase physical activity and encourage healthy eating
swara Health and Nutrition Program
The swara health and nutrition program is an NDIS-funded Day Program designed to assist participants to increase physical activity and encourage healthier eating. The program aims to improve both physical and mental health as well as the quality of life and self-esteem in a welcoming environment.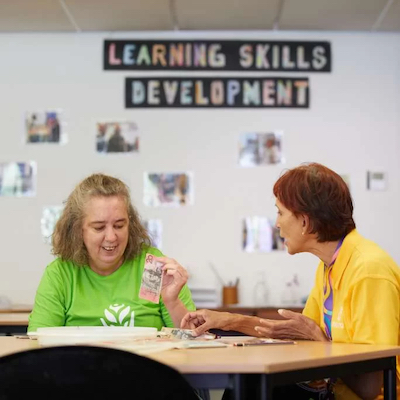 swara's Health and Nutrition program helps participants understand the importance of the physical building blocks of wellbeing: Exercise, Sleep and Healthy Eating.
It can also be tailored to individual participants and includes diabetes education for participants diagnosed with the condition.
The program is run by swara Support Worker, Malti, who holds multiple medical qualifications and a Cert in Individual Support (Disability and Ageing). She is also currently studying a Bachelor of Nursing. Malti's expertise and enthusiasm means she delivers amazing NDIS health and nutrition sessions that provide participants with important life skills and promote independence.
If you'd like to learn more about how this and other swara programs can provide advice and practical skills to help participants lead a happy and healthy life, contact the friendly swara team today.
swara Daily Living Programs
swara runs a range of other Daily Living Skills Day programs designed to enhance skills and knowledge. Participants can choose which programs suit their interests and needs best:
Meal preparation and hospitality
Daily planning and budgeting
Personal domestic activities
Self-care activities
Communication skills
Learn more about the full range of swara Daily Living Programs.
Control your learning
In addition to NDIS supported daily living programs, participants can work 1:1 with our support workers for more individualised learning.
Want to join our family?
There are three ways you can get in touch and we can start talking

Visit us in person

Contact us online
Give us a call
Tel: 07 3391 4119
About swara
swara is a Not-for-Profit NDIS registered and DSOA support provider. Loving service is our credo. We aim to brighten the lives of people of all abilities, empowering them with a sense of real worth. We give them the confidence and means of reaching their full potential in a loving service environment. The swara family welcomes all people with mild to moderate disabilities.