Surprising Benefits of Pottery Art Therapy
At swara, the Arts are a very important part of our daily programs. Music, singing, dancing, drawing, painting and creating are all tools we use to improve our physical and mental well-being.
The arts access and engage different parts of the brain that form a posture of mindfulness and awareness.
One of our key art therapy programs is our pottery shed. The pottery shed is a space that expands our participants' creative minds, allowing them to express their inner being. It's a way to connect with the present moment, calming the mind and moving them to a place of peace.
Mindfulness and Emotional Healing
Pottery therapy is an external express of the unconscious brain bringing awareness and healing at the same time. The aim of pottery is to assist with healing the inner self and improving the physical, spiritual and emotional state.
Physical and Mental Health Improvements
Pottery work creates a calming experience resulting in lowering stress levels, blood pressure, heart rate and regulating breathing.
Clay can also be an effective tool to reduce anxiety, promote a positive mood, enhance creativity, healing and induce self-expression. Art therapy improves self-esteem, confidence and self-awareness. It has been proven to help with anxiety, depression, stress and a number of other mental health disorders.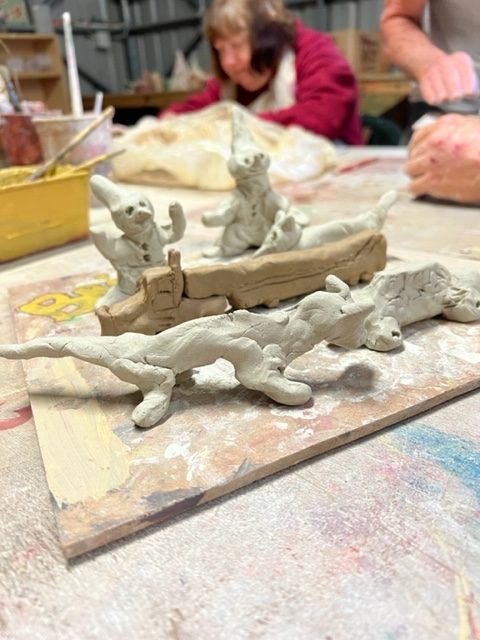 Building Muscle Strength and mobility
Using hands to mould and shape the clay also helps exercise muscles, build fine motor skills, and enhances mobility.
Pottery and Art Therapy at swara
Learn more about the swara Art Therapy program and its benefits, or contact the swara team today for more information about our NDIS Art Therapy program.